Bright Futures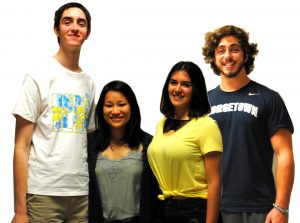 A future saving lives
My greatest heartbreak was not given by a lover but rather by my grandmother.
Some years ago, I remember I was staring into her eyes and I had noticed that the flare of life was extinguished. She seemed to have isolated herself to the walls of her mind. And now, she has forgotten most of her memories — including those of me.
I am now a stranger to her.
Alzheimer's is notorious for condemning the afflicted person and their family to a life of instability and desolation. However, a year ago, I stumbled upon an interview about Dr. Gayatri Devi, a neurologist, who claimed that Alzheimer's was a spectrum of hope and not a definite doom. She explained that patients with Alzheimer's can live normally and future fatalities can be mitigated by efficient treatment.
This instilled faith in me.
The passionate nature of physicians to aid others is what I gravitate towards. I am compelled by their ability to humanize science in order to provide a better future for their patients. With the advancement of technology, and my growth in knowledge, I want to provide this similar hope to those who feel consumed by the darkness of a disease. I not only want to achieve individual patient satisfaction, but, like Dr. Devi, I also intend on bringing forth progression by extending my patient care to the broader community.
Dr. Devi's words resonated with me and allowed me to cling onto a promise that one day, I could meet my grandmother again.
— Neha Chongtham, Editor-in-Chief
A future in global health
Growing up, I was always ambitious and full of excitement.
I can recall specific memories from my times in elementary school, claiming that I would be the first female president. My hopes and dreams for the future may have changed but the drive to make a difference is still there.
In the past, I have bounced around potential career aspirations ranging from plastic surgeon to forensic pathologist, and I have no definite idea what I want to do, but I know whatever it is will be in global health.
When some people hear the term "global health" they may think of people going to other countries just to appear like they are trying to make a difference, but I truly do want to make a change wherever I end up.
Service has always been a huge part of my life because I believe when you give, you receive right back. In my life, I know that there have been many opportunities for me that others have not had, and I hope for a world where there is equity for all.
Wherever I end up eventually, college is the first step.
Next year I will be attending Tulane University in New Orleans, where I will tentatively study public health and political science with a concentration on international relations.
Tulane has a huge study abroad program, with a public health option in Chile where I would be able to continue my study of Spanish. They also place a huge emphasis on community service, no matter where you are, which is an amazing continuance for my college years of what I have done my entire life.
In ten years, who knows where I will be?
Hopefully, somewhere around the world, doing something to better the place that has given me a home.
— Sydnee Sherrick, Editor-in-Chief
A future in math
Going to college is tough. Most people are not sure of what they want to do for the rest of their lives by the ripe old age of 18, myself included.
There were definitely periods when I knew I would be a doctor, an engineer, a pharmacist. It is kind of like a renaissance of the timeless childhood question: What do you want to be when you grow up?
Unfortunately, we cannot all be Forrest Gump.
The task of choosing a college major is incredibly daunting when you realize that in four short years, you will have a degree in a field you will probably be working in for the rest of your life. There is that nagging pressure of "What if I'll be unhappy?" and "What if this isn't right for me?"
Plenty of opportunities have been available to discover a passion. You see posts on Instagram about internships and jobs that your friends love. But when the time comes to actually make a decision about what you want to be, it feels too late to actually start with those programs. It feels like unless you have known for years what you want to be when you are older, that you are making the wrong decision.
Now you may be thinking, "Isn't that the whole reason that an Undecided major exists?"
And while, yes, that is certainly correct, it still doesn't feel right.
Undecided majors typically have the student take all of their Gen Eds (general education courses that all students need to graduate), while encouraging taking a few courses from other majors. There are two real issues with this. A: It just delays the inevitable decision of what your major will be, and B: Some majors operate on an annual schedule for courses, which means you may need to add on a fifth year of college to get the degree you want.
I have spent countless hours agonizing over this decision of what I want to be when I'm older, and I have landed on a decision. When I go to college, I want to equally pursue both math and music. People always say that double-majoring is incredibly difficult, and is not realistic.
But they never consider what you have done within high school, or who you are.
Looking at the courses I have taken in high school, I have been essentially following this path all along. Between testing out of classes, doubling up on subjects, and brutal course selection sessions with Mrs. Chambers, I have managed to take every math and music course available to me.
Choosing a future for yourself is an incredibly difficult task. But people are all around you, willing to give you support and advice whenever you need. Do not fear the ever-dreaded selection of a major; the answer may have been in front of you all along.
— Brian Lynch, Business Manager
A future in law
Law is such a broad topic. There's more kinds of law then kinds of shrimp listed by Bubba from "Forrest Gump." With that in mind, I can get myself into any number of professions. The weird thing is, I have no clue which one of those it's will be.
I have always been a huge politics guy, and with Political Science being one of the top 3 majors for getting into law school, it seems like a great path to take. History is also one of those top majors, and something that I have always looked into and enjoyed learning about. Those two majors, both of which I plan on taking in college as an undergrad, veer me more so towards being a professor or politician, both of which are professions I have considered. But there is also the most common profession coming out of law school: a lawyer.
If that were the road I would want to take, I would have to find a happy medium between the varying ends of that spectrum. There are your blood-sucking corporate lawyers, who try to manipulate government regulations in order to save a dime by defending the company when one of its workers gets hurt in an accident. Or if a piece of glass slips into a customer's soda bottle and they decide to sue, it is up that corporate lawyer to defend the company. Then you have ambulance chasers, lawyers trying to pick up lawsuits after people get hurt in the hopes of making a quick buck after someone decides to sue. Neither of those options thrill me, but that is not all a law degree has to offer.
A law degree gives you the option to do so much more. You can be a teacher, an accountant, a sports agent, a politician. That wide array of jobs in such an evolving market is a critical aspect in my decision to pursue it, so that I am not pigeonholed into a profession I may hate later. And any job in any one of those fields helps me in any other field I choose. Case work as a lawyer can prepare you to be a teacher, or convincing athletic companies to sign an athlete can prepare you to convince constituents to agree with your policy decisions as a politician. Any option is open and readily available with a law degree; and for someone who is not quite sure what they want to do, that is more than I could ask for.
— Dean Costalas, Sports Editor