Spirit week plans start early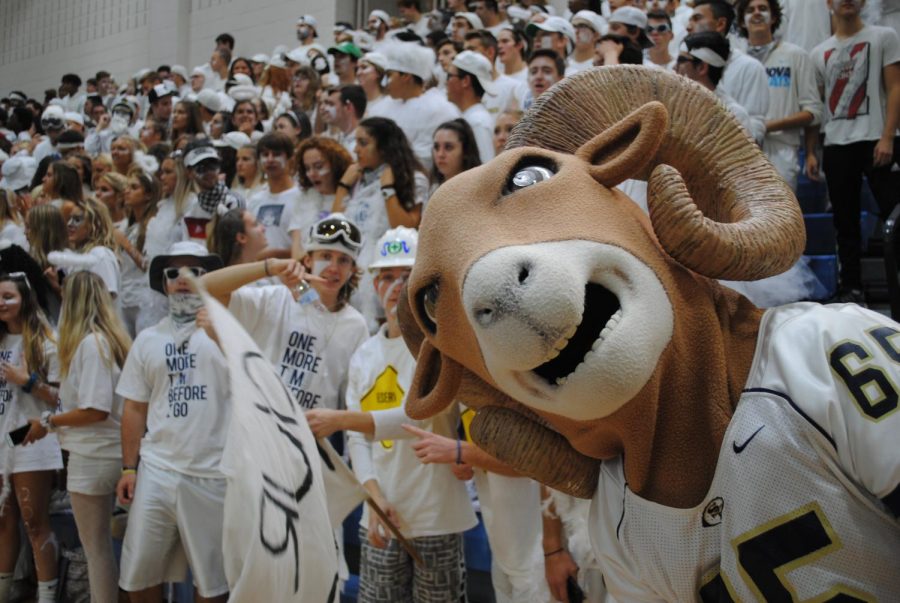 The definition of Spring-Ford's Spirit Week is directly in the name- a week that student's exemplify spirit. Spirit week is seven days where students wear wacky costumes according to the theme. The week ends with a massive pep rally and the weekend continues the spirit with a powderpuff game, a parade, a tailgate, the football game, and the Homecoming dance.
"Homecoming week is really exciting," senior Megha Rajan said. "The school feels united, and I love the sense of community and Spring-Ford pride that the week entails. Spirit Week also gets me excited for homecoming."
While Homecoming goes by in a flash, the week encompass a lot of good for the community and takes hours of planning from student council members and teacher advisors Adrian Frain and Stacy Bogus. The members worked hard to make sure students would be satisfied with the day's themes and sold tickets to over 1,300 students for the dances. Frain and Bogus coordinated Spirit Week, the two dances, the pep rally, and powder puff.  A lot of time and effort is put into the week in order to make it epic and charitable every year.
Just walking into Bogus and Frain's room before and throughout homecoming week, one sees how busy they truly were. There were always students coming in asking questions on Powderpuff, getting their shirts, or signing up to be in the Pep Rally activities.
Fortunately, the teachers are used to the stress.
"We have the week down to a science since we have been doing it for so long," Bogus said. Bogus has been the administrator for student council for ten years and Frain for seven years.
Bogus details that she and Frain begin working on homecoming week as early as the springtime. "We have a student council meeting to see if the students prefer any changes and what they are. It really is to get feedback and have them represent the student body."
Unlike past years, this year's dance was split for the upperclassmen and underclassmen. "It just needed to happen honestly"  Bogus explained. "It was just so hot in there from so many students, and nobody had any room to dance. Also, we had reached maximum capacity, and it was a fire hazard."
Tickets did not suffer from the split. The 1,300 tickets sold is" right on average of what we typically sell"occurring to Frain.
 Another vital aspect of spirit week is the day's themes.
"One of the things we were concerned about for themes was money" stated Bogus. "While many students wear elaborate cool costumes, we didn't want anyone to feel as if they had to go out and buy all sorts of things.
"We tried to come up with themes where there were a lot of takes and a lot of different ways you could go so that everyone could participate and help their grade."
The pep rally is another portion of what Frain and Bogus plan with a focus being on students and competition.
Student council's president Hiba Hamid said the division of responsibilities worked.
"We actually split up the pep rally so people who want to take charge of certain events can do so," Hamid said. "Whether it is announcing the events or spirit week winners, there's a sheet to sign up for what they want to do and provide them with a script."
Powderpuff is another event Frain and Bogus take on; this includes the cheerleaders, the football players, and a charity.
"The main goal is to get everyone involved and having fun," Bogus said."Not everyone has to be able to flip. We make sure to find something for everyone."
Alongside, with the fun of Powderpuff, the money raised is all for charity. Every year student council chooses a charity; this year was Operation Backpack.
Operation Backpack is an organization where volunteers pack items into backpacks which get sent to qualifying students that are discretely picked.These backpacks contain enough food for dinner Friday night, breakfast, lunch, and dinner on Saturday and Sunday, along with some snacks and water. All items are already made, and no cooking is required. Altogether, Operation Backpack encompasses 31 schools. Spring-Ford has 214 students in the program, at this time, and has sent out 3,930 food items.
Frain even helps work for this charity.
"I help figure out who needs Operation Backpack and receives permission from the company to have that student entered," she said.
Overall, the community thanks Frain, Bogus, and student council for creating yet another perfect homecoming week. Not only did it make students happy and feel a sense of community and pride but it helped students in need at the same time.
The week certainly gives Spring-Ford students a sense of pride to say they are a Ram.