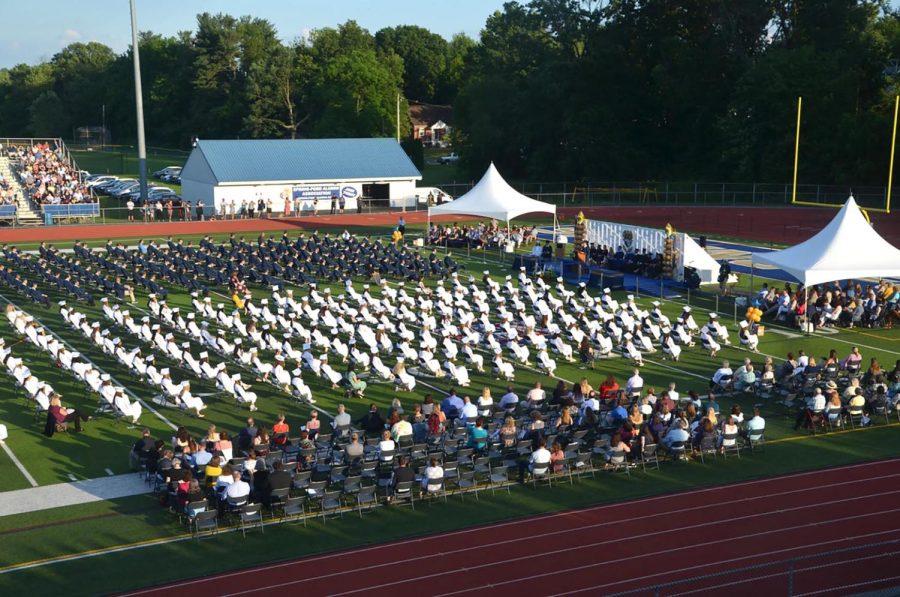 Photo courtesy of Spring-Ford
The Spring-Ford Area School District will change attire for graduating students from the traditional blue and white graduation robes based on gender to all students wearing blue robes.
"Given the research, student participation and administrative support (we) will transition to one color cap and gown for all graduates starting with the 2023 commencement ceremony," Spring-Ford Principal Dr. Robert Colyer said in an email to parents.
The traditional colors of blue and white, as well as seating separation due to color of gowns, remain at this year's June 8 graduation for a final time. The change to all blue gowns begins at the Class of 2023's graduation ceremony and continues for future classes.
"The decision was not made lightly and all angles were analyzed in order to make the best decision for all involved," said Commencement Coordinator Danielle Blackledge. "The decision took about a year and the entire process started last spring."
The decision addressed concerns raised by students and occurred following consideration from Colyer, a group of students, and faculty members. Other than the all-blue robes, the only change within the actual commencement ceremony will be how students line up in alphabetical order to enter the procession; previously they were divided by the color of their gowns.
In a recent message to juniors, Colyer addressed key takeaways for the reasoning behind this new official change.
"It would allow for some flexibility in the dress code underneath the gowns for students formerly wearing white," Colyer said.
In 2020, Spring-Ford adopted a Latin-style, collegiate honors system that includes each student being recognized as Summa Cum Laude, Magna Cum Laude, or Cum Laude. The graduation robe color change is another effort to adhere to this new system.
"A unified single color graduation gown would align with the change to the Laude honors system and reflect traditional collegiate graduation attire," Colyer added in the letter.
Juniors had mixed opinions on this new choice. Some are excited about the all blue, others will miss the white robes, and some remain neutral, just excited to participate in graduation. The color choice of these new robes seem to be the main cause for juniors' unhappiness regarding the decision.
"I was pretty disappointed we didn't get all white," says junior Bryn Frankhouser, "I would much rather have all white, however, out of all the blue options they gave us the plain blue was by far the best."
While considering changing the robe colors a survey was sent out to the class of 2023, asking for opinions on the new gown design. Solid blue was proven the winner, with 68% of the 211 students who participated voting for navy blue robes. Other choices included navy blue with a gold neck, navy blue with a center stripe, navy blue with gold sleeve accents, and navy blue with both center stripe and sleeve accents. Some students suggested different options in the survey's open ended section but ultimately all navy blue robes were decided on.
This new gown color marks the beginning of a new tradition for Spring-Ford graduations.
"We look forward to making this transition on behalf of all of our students and our school in general and are excited to celebrate the successes and achievements of the class of 2023 together throughout next school year," Colyer said in the letter.