History Lesson
Terrific teamwork helps girls tennis team capture only the second team state championship ever at Spring-Ford.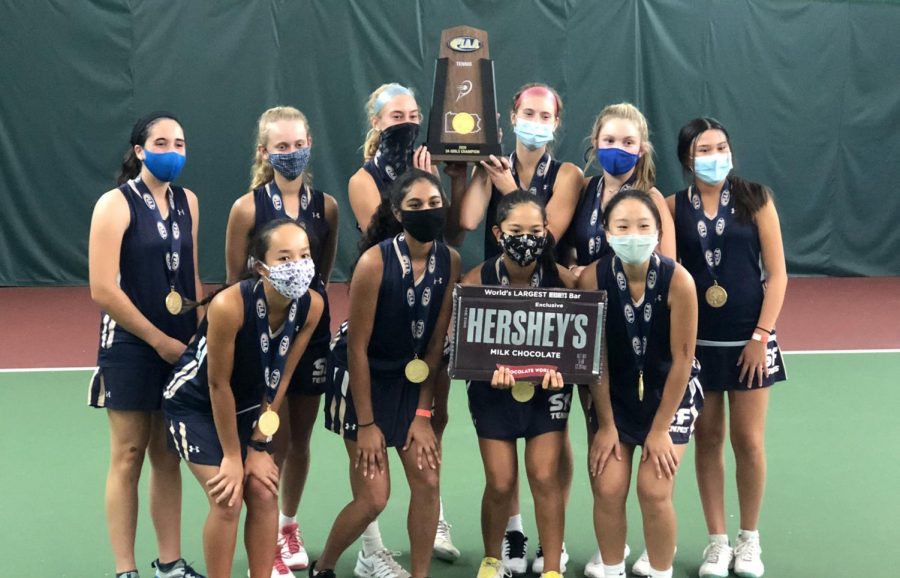 The Spring-Ford girls tennis team had won the Pioneer Athletic Conference a multitude of times. But it always seemed like there was a ceiling — they could never get past that elusive first district playoff game.
"We knew we hadn't won in districts before, so we knew we had to prove ourselves as the new, young team," girls tennis coach Todd Reagan had said earlier this year.
Fueled by a talented roster, terrific teamwork, and a drive to win, the Rams not only broke through that ceiling but accomplished a whole lot more in winning only the second PIAA state team title ever in school history.
Coming into the season, there were a lot of unknowns. A widespread pandemic cast great uncertainty on if there would even be a season. Even Reagan was unsure of what was to come.
"Going into the Summer, I felt we had about a 50% chance of conducting a season," Reagan said. "We are certainly glad and thankful for the tireless work of Mr. (Mickey) McDaniel, Mr. (Doug) Reigner, Mr. (Dan) Miscavage, and others putting together a great health and safety plan."
But, once this team was finally able to hit the court, Reagan knew he had something special and COVID was not going to overshadow this team's story.
The coach emphasized he knew he was going to have a good team this season, but he never could have even dreamed they were going to win the state final. Something that echoed with the Rams' newfound star, freshman Mia Matriccino.
"I honestly did not know we had a chance to win a state title," Matriccino said. "It was not that I thought our team was bad, it simply had never been done before." 
Matriccino played a crucial role early in making the state championship a reality. The freshman did not take her offseason lightly, heading to local courts to work on her skills for 1-to-2 hours per day leading up to the season. Even with a storied career before high school, she really had no anticipation of what to expect from her own team or the opponents she was going to play.
The extra effort paid off, as Matriccino finished the season 20-1 as an individual. The only loss on her resume was to two-time PIAA champion Amelia Honer.
This outstanding accomplishment is something Matriccino emphasized she did not do alone.
"What really helped me play my best during each match was my team," Matriccino said. "I wanted to win, not just for myself but my team."
The Rams completed their regular season team schedule 8-0, decisively defeating Boyertown 7-0, to win the Pioneer Athletic Conference. Next up, the Rams faced their first big challenge — getting the elusive first district win. 
Against West Chester Henderson in the first round of districts, the Rams had their backs against the wall. Keyed by strong sophomore play from Cady Krause, doubles duo Alexis Luo and Evelyn Mejia, and a decisive victory for the freshman Matriccino, though, the Rams snuck into the second round of districts.
That's when their coach quietly noticed they had a chance at something greater as districts went on .
"As we started to move toward that district final, I began thinking about that state final," Reagan said.
The Rams narrowly bested No. 1-seeded Unionville on the road for a trip to the district championship. They then enjoyed a lopsided victory in the final against Wissahickon, which led to players also believing they had a chance at something greater. Following a 5-0 win against Cardinal O'Hara in the first round of the state tournament, the Rams were off to Hershey for the state tournament's final four. 
Lucy Olsen, a senior doubles player better known for her basketball skills, emphasized that the team simply wanted to cherish their moment on the way to Hershey for the semifinals.
"Once we got there, the excitement set in," Olsen said. "I do not think the underclassmen knew how crazy it was to make it this far. They thought it just was what happened."
Asked for what the key was to success, camaraderie was something that clearly fueled the team.
"This team was so talented from the start, but we really just wanted to win for each other and win together," Olsen said.
The Rams arrived for an afternoon showdown against Southern Lehigh and made quick work of the Westerners, winning 4-0.
The season now had come down to one match. Mia Matriccino entered and made quick work of her opponent, but she made it very clear her favorite part was being able to rush to the doubles courts and watch her teammates. This team-first mentality from Matriccino was something Olsen really thinks helped.
"Mia never played on a team before," Olsen said. "Having people counting on her and supporting her, I believe, made her want to win even more."
But, as much as the Rams helped the freshman, she also helped them.
"Mia is so insanely skilled and really gave us someone to look up to and strive to be like," Olsen said. 
Up 1-0, Lucy Olsen and Emily Tiffan continued their straight set win to get the team their second win. They would only need one more, and the outstanding doubles duo of Mejia and Luo were able to deliver the second state title in the school's history.
In a year of unprecedented uncertainty, this team was able to find a way to deliver a state championship for their school, something Olsen attributes to the team's bond.
"I think because we all became such close friends, there was like a special internal motivation to win and not let one another down."
Reagan was someone also mentioned by the players' in their thanks for the season, and he put it quite eloquently what delivered the second state title in school title. "The hard work that they have invested through the years has put them in a spot to win the ultimate prize. This team was just full of really athletic kids who hated to lose."
Clearly.