Gaining ground
Yoon's return bolsters strong Spring-Ford running game in big win over Boyertown.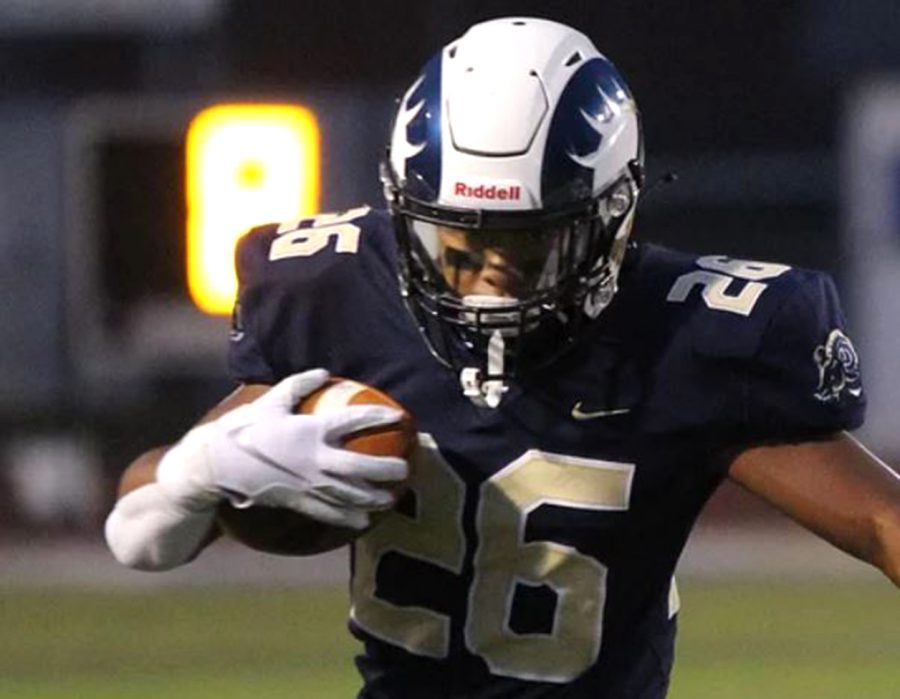 Senior running back Andrew Yoon missed Spring-Ford's home-opener against Perkiomen Valley with a shoulder injury while the Rams ran all over the Vikings.
Yoon, re-inserted into the lineup in Boyertown on Friday night, helped the Rams pick up right where they left off. The senior ran for 72 yards on seven carries, beginning with a seven-yard touchdown run to open the scoring of the Rams' 49-13 victory over the Bears on Oct. 2.
"We know what Andrew can do, and over the last few years he's been plagued by a few injuries," Spring-Ford coach Chad Brubaker said. "Hopefully this was the last of that, and he'll be a big part of our offense."
Junior runner Harry Adieyefeh Jr., coming off a career-high 34 carries while Yoon was sidelined, was also able to find the endzone for his second touchdown of the season. Joining the party, the versatile senior Nick Teets scored a rushing touchdown as the Rams' three-headed monster of a backfield continued to take shape.
While the talent at running back and big performance in the opener gave the Rams the confidence they had in a strong running game heading to Boyertown, the passing game was a little less certain.
Junior quarterback Ryan Freed answered any questions there may have been, though, as he picked apart the Boyertown secondary while throwing for two TDs on 9-for-14 passing. Senior wideouts Teets and Joe Brogan hauled in the passing scores.
The greater emphasis on the passing game was by design, according to Brubaker.
"That was on purpose, we were trying to be more diverse," he said. "We need to continue to work on (Freed's) confidence in the passing game."
Defensively, Boyertown was never able to truly get going. The Bears fumbled the ball three times, mustering only 207 total offensive yards. Ryan Horvath and Zach Marinello were credited with the two sacks the Rams' collected on Bears' QB Noah Segal. Leo Egbe and Luke Ordway were the touchdown scorers for the Bears, with both scores coming in the second half.
Next up, Spring-Ford will welcome Upper Perk to Coach McNelly stadium Friday night. Upper Perkiomen comes into that game 0-2, losing a nailbiter to Methacton and being blown out by 34 to Perkiomen Valley.
NOTES: Senior Josh Pergine blocked a punt leading to a Rams touchdown…Donnie Nicoline, Cameron Goldsmith, and Mason Brill all recovered fumbles for the Rams…Nasir Cooke made 8 tackles for the Rams as well as a TFL…kicker Alex Nadeau made all 7 PATs, but did miss a field goal
Spring-Ford 49, Boyertown 13
Totals
| | | |
| --- | --- | --- |
| SF | | B |
| 14 | First Downs | 10 |
| 9 | Penalties | 4 |
| 79 | Penalty Yards | 50 |
Passing
| | | | | | | | | |
| --- | --- | --- | --- | --- | --- | --- | --- | --- |
| Player | Comp | Att | Yds | Comp% | Avg | TD | Int | QBR |
| Freed | 9 | 14 | 126 | .643 | 14.0 | 2 | 0 | 132.7 |
| Keckler | 2 | 3 | 50 | .667 | 25.0 | 1 | 0 | 149.3 |
| Totals | 11 | 17 | 176 | .647 | 16.0 | 3 | 0 | 138.7 |
Rushing
| | | | | |
| --- | --- | --- | --- | --- |
| Player | Car | Yds | Avg | TD |
| Yoon | 7 | 72 | 10.3 | 1 |
| Teets | 5 | 55 | 11.0 | 1 |
| Adieyefeh Jr. | 7 | 28 | 4.0 | 1 |
| Freed | 1 | 11 | 11.0 | |
| Goldsmith | 2 | 17 | 8.5 | |
| Fish | 2 | 5 | 2.5 | |
| Keckler | 1 | -10 | -10.0 | |
| Wilson | 1 | 46 | | |
| Totals | 26 | 224 | 8.6 | 3 |
Receiving
| | | | | |
| --- | --- | --- | --- | --- |
| Player | Rec | Yds | Avg | TD |
| Zollers | 1 | 1 | 1.0 | |
| Teets | 4 | 59 | 14.8 | 1 |
| West | 1 | 43 | 43.0 | 1 |
| Brogan | 3 | 55 | 18.3 | 1 |
| Hellauer | 2 | 18 | 9.0 | |
| Totals | 11 | 176 | 16.0 | 3 |
Kicking
| | | | | | |
| --- | --- | --- | --- | --- | --- |
| Athlete | PAT | Att | FG | Att | Tot |
| Brill | 7 | 7 | 0 | 1 | 7 |