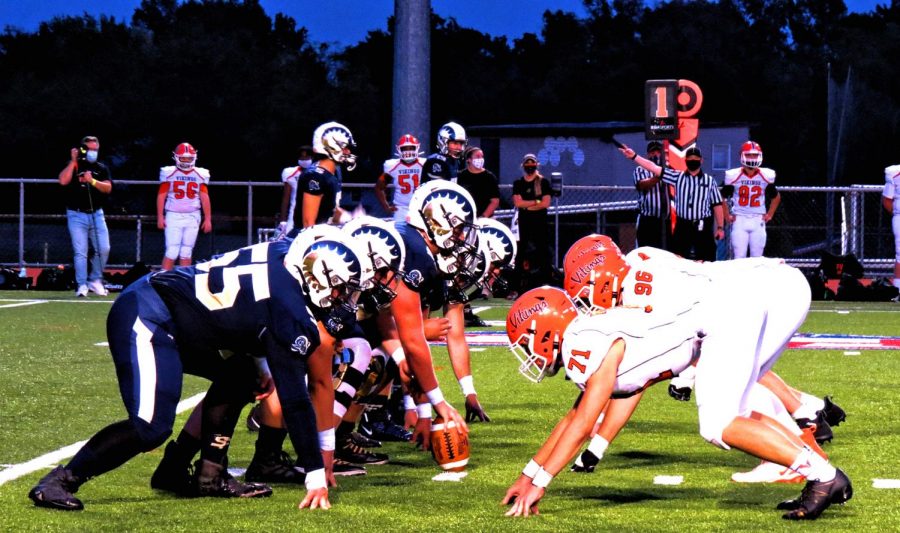 Eshika Seth / Photography Editor
Despite a later start to the season, the Spring-Ford football team picked up right where it left off.
Nick Teets scored two touchdowns and Harry Adieyefeh Jr. added another as the the reigning Pioneer Athletic Conference champions  rolled to a 27-13 victory over  rival Perkiomen Valley at Coach McNelly Stadium on Friday night, Sept. 25.
"Well, we still have a lot to work on, but it's nicer to work off a win than it is a loss," Rams coach Chad Brubaker said. "So, we'll take the positives and try to build of of them and correct the negatives."
Spring-Ford couldn't have asked for a stronger start to a season that had been delayed a few weeks due to the Covid-19 pandemic.
The Rams ran over the Vikings behind junior Adieyefeh's career night. Adieyefeh took the ball thirty-four times for 180 yards. After averaging 5.29 yards per carry and scoring a TD, it would be hard for any Rams fan to not be excited about the remainder of the season for the junior.
Teets scored twice, highlighted by a 29-yard run that went right through the Vikings secondary. Teets could have had two more touchdowns if it was not for two penalties calling both plays back. The PAC first-team safety of last season also impressed on defense, compiling a couple tackles throughout the evening's game.
The Friday kickoff marked the debut of junior QB Ryan Freed, who impressed with a 30-yard completion to WR Nick Cagliola early in the game. Freed, who finished 6-for-12 for 65 yards, unfortunately had his first TD pass of the season reversed on a holding penalty. 
The Rams will now travel to Boyertown to take on the Bears, who lost 37-7 on Friday at the hands of Owen J Roberts. In an ever changing world, it is important to note the preparation and extensive measures that made this evening's game possible. The staff, cleaners, and athletic department did a tremendous job ensuring these students' got the opportunity to play tonight.
NOTES:  Alex Nadeau, the senior kicker, really impressed making all three of his extra points and kicking two field goals. Senior Naphtali Stine recorded the first interception of the season for the Rams. Rams' DT Donnie Nicoline starred in the defensive front with two sacks.

Boxscore:
Spring-Ford 27, Perkiomen Valley 13
QUARTERBACKS
Player
Comp
Att
Yds
Comp %
Avg
TD
Int
QBR
Freed
5
11
64
.455
12.8
0
0
64.2
RUSHING
Player
Car
Yds
Avg
TD
Adieyefeh Jr.
34
184
5.4
1
Teets
8
64
8.0
2
Freed
1
-1
-1.0
0
Team Totals
43
247
5.7
3
RECEIVING
Player
Rec
Yds
Avg
TD
Cagliola
2
32
16.0
0
Brogan
2
25
12.5
0
Teets
1
7
7.0
0
Team Totals
5
64
12.8
0
KICKING
Kicker
PAT
Att
FG
Att
Lng
Tot
Nadeu
3
3
2
2
28
9