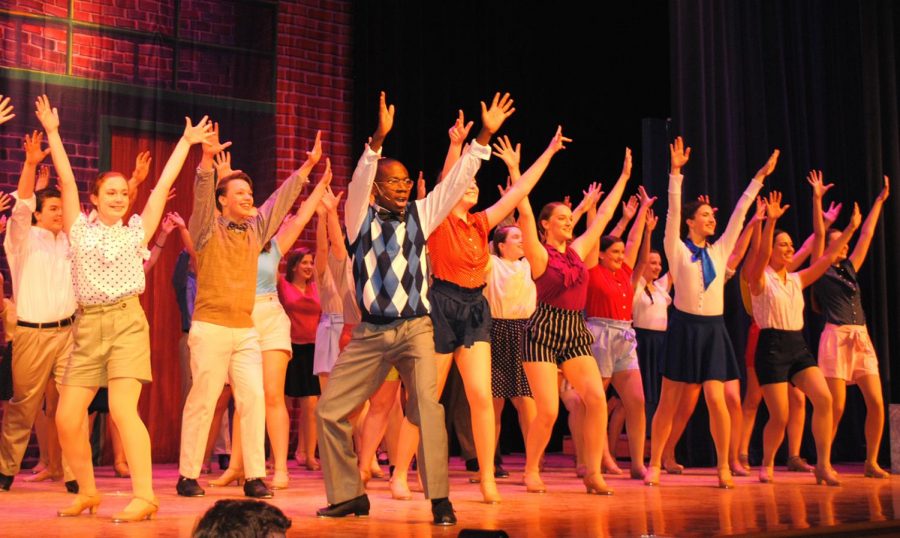 Staff Photo
It was that time of the year again—late night rehearsals, fixating on lines, and practicing dance moves for hours on end.
If you haven't guessed, the musical arrived.
This year, Spring-Ford debuted "42nd Street" in front of audiences in the auditorium.
The female lead of the musical was Riley Sullivan, who plays Peggy Sawyer. Sullivan's character demonstrated youth, freshness, and beauty while performing the show.
The supporting male lead of the musical was Nate Warren, who played Julian Marsh. Warren'
star in the show. Warren's Marsh is strict, yet supportive in this role.
Seventh-Grade Center teacher and musical director, Alex Cifelli, directed the musical this year along with the 8th Grade Center teacher, Joseph Perry.
42nd Street takes place in 1933 in the cities of New York and Philadelphia.
"It's an old school show that features a lot of women's roles a lot dancing, which are all pivotal features" Cifelli said.
This year's musical is quite different than the musical's Spring-Ford has had in the past.
Why, you may ask?
"This is the most dance-heavy show that I've done here at Spring-Ford, and I think we were able pull it off," stated junior Eli Jones, who plays Andy Lee.
But Cifelli isn't going into this show unprepared, actually far from it.
"I do a lot of research, I watch a number of high school productions, professional productions, reading through the script, making notes," Cifelli said. "It's ten to hundreds of hours of prep time before you even see the kids."
Although there is a lot of prep work, it pays off because practices with Cifelli are engaging and informational.
"Mr. Cifelli is really helpful," said senior Rachel Pragman, who plays Dorothy Brock. "He really understands how to give directions in a way that people who aren't professional actors will understand."
Caitlyn Colgan, a dance instructor, helped the students improve their tap skills, not only at musical practices but at additional tap clinics that were held over the summer.
"The tap clinics help a lot," said Jones. "It was the first time tapping for a lot of people. And there's always a lot of people who go, so it's nice to see that."
Aside from the dance numbers, the soundtrack also sings.
"The music is fantastic. The songs don't leave your brain. They are so infectious," Cifelli said. "Audiences will walk away singing them in their head, and they'll be mad at us."
Students are raving about the music too.
"I've been listening to the songs since the summer," senior cast member Juliana Perri, who is a feature dancer and a member of the ensemble stated. "They are jazzy and they have a lot of good energy!"
"42nd Street" made its debut at Spring-Ford on March 6th and 7th and almost everybody in the audience was impressed by the turnout.
It was all made possible due to the weeks of practices and rehearsing each and every student devoted to this musical.
"It's about spectacle," Cifelli said. "This show is something special in a totally different way than the other musical's Spring-Ford has done in the past."